IMPORTANT: Abbott Formula Recall
There is a recall of some Abbott powdered formulas, including Similac, Alimentum, and EleCare. Read below to learn more about the formula recall and how to replace recalled product.
Importante: Retiro de Formula Abbott
Padres y cuidadores: No diluya la fórmula infantil ni haga fórmula infantil casera. ¡Puede ser peligroso para su bebé! Más información aquí.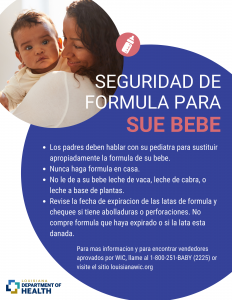 WIC offers healthy foods, nutrition information and referrals for other helpful services.
Replacing Recalled Abbott Formula
Due to the 2022 Abbott voluntary formula recall, Louisiana WIC has received a federal waiver to issue non-Abbott (Similac) formula to prevent a formula shortage for Louisiana WIC families.  This waiver is temporary and will expire on January 31, 2023.
Refer to the Formula Substitution Table below for information on similar products that you can get with your Louisiana WIC Benefits through January 31, 2023 without having to return to clinic to have your EBT card adjusted.  Click here to download the Formula Substitution handout. There are additional substitutions available that do require a return to clinic. Call your clinic for more information. 
Formula Substitution Table
Important: Abbott Formula Recall – 2/18/22
The FDA has released an alert for consumers to avoid buying or using certain Abbott powdered infant formulas. Abbott has voluntarily recalled SOME powdered formula including:
View the resources below for more information about the Abbott recall, and continue to check the Louisiana WIC website for the latest information. 
WIC Participants will receive an increase in Cash Value Benefits through September 30, 2023.
The Cash Value Benefit amounts increased to:
$25 for children
$44 for pregnant and post-partum women

$49 for fully/partially breastfeeding women

$73.50 for fully breastfeeding women with multiples
Families that have already been issued benefits for April, 2022 and beyond, may call their WIC clinic to schedule an
appointment to have the increased CVB amount added to their WIC card.
Questions? Contact your local clinic for more information.
LA WIC Shopping Apps
Louisiana WIC offers FREE phone apps to help make your WIC shopping easier.  To learn more about the WIC Shopper app and Bnft app, view the flyer.