WIC is using new and existing technology to improve the entire WIC experience. Learn more about some of them below, and be sure to check back for updates and new ways to make the most out of WIC!
Online Pre-Application and Gateway
The WIC online application is an easy way to help determine if someone is eligible for WIC services.  Answer a few questions, and a WIC representative can reach out to arrange a clinic visit.  Before heading to their clinic, WIC users can also request access to the Participant Gateway Portal to update health history and submit any required documents for certification. 
The application and gateway portal can save time, provide better access, and allow people to start and continue their WIC journey on their terms.
Redeeming WIC Benefits and WIC Shopping Apps
Starting in 2020, Louisiana WIC benefits are now redeemed on an electronics benefits transfer (EBT) card rather than a voucher-based system.  WIC families no longer have to separate WIC foods at checkout, and they can purchase as few or as many as they want at a time.  Some WIC-approved grocery stores also give participants the ability to redeem WIC benefits in self-checkout lanes; check out the WIC Grocery Store Map to learn more.
WIC Shopping Apps
There are currently two grocery shopping apps made for WIC participants to use on their smartphones: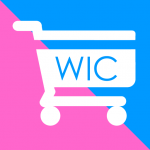 WICShopper (Download iOS/iPhone) (Download Google Play/Android) 
WICShopper includes tools such as a product scanner to check if an item is WIC-eligible.  The app also has a locator to find WIC-approved grocery stores along with recipe ideas, a WIC appointment calendar, and other resources.
bnft (Download iOS/iPhone) (Download Google Play/Android)
bnft is another app that provides great resources for WIC participants, including a product scanner to check items for WIC eligibility, benefits balance, transaction history, and a WIC-approved grocery store locator. 

Click here to learn more about what WICShopper and bnft offer.  WIC users are free to use both apps to get the most out of their WIC shopping.
More Resources and Support

WIC Location Maps
Launched in 2022, these regularly updated maps make finding a WIC clinic or grocery store easier, anywhere in Louisiana.  Address, phone number, and a link to Google Maps are given for every location.
Click the links below or on the images to be taken to each map.
WIC Clinic Map
WIC Grocery Store Map
Luna, the WIC Chatbot
Louisiana WIC now has a chatbot named Luna!  Luna helps to answer some common questions about WIC.  Just click or tap "Chat with us" on the bottom right to explore WIC with Luna.

Note: the image for Luna is Brown Curly Hair Lady With Yellow Glasses icon hosted by Icons8.
More tools and resources will be available soon–keep checking back for updates!