WIC offers extra benefits for women who want to breastfeed.
Read the latest breastfeeding news by clicking the items below.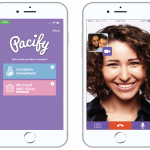 Did you know? LA WIC now offers access to Pacify memberships to eligible participants – for FREE!
Pacify connects you with live Lactation Consultants who are available 24/7 via video to offer breastfeeding support and answer other feeding related questions – all at the touch of a button!
Click here to learn more about Pacify. 
Louisiana WIC is proud to offer a Virtual Breastfeeding Support Group.  Meetings take place every 3rd Tuesday, 11 am – 12 pm via Zoom.  View the meeting flyer here for specific dates, or contact your local WIC clinic for more info.
Meeting Link
Click here to join the meeting via zoom.

Breastfeeding Peer Counselors (BFPC) are moms helping moms with breastfeeding.  To learn more about Breastfeeding Peer Counseling read the section below, and click here to view the BFPC poster.