Questions About Your WIC Benefits?
Louisiana WIC works hard to continue providing benefits during disasters and other emergency events.  The most up-to-date information is available on our website, LouisianaWIC.org.  Families may also reach out to local clinics for assistance and resources.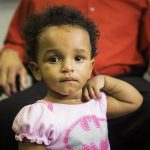 Learn more about transferring WIC benefits to another state during a disaster or how to use benefits in another LA parish, along with FAQs.
Transferring WIC Benefits Out-Of-State
Any WIC participant certified on Louisiana (LA) WIC that evacuates to another state will not be able to use their LA WIC EBT card at out-of-state grocery stores. Participants must request a transfer of their WIC benefits to that state using a process called 'VOC', which stands for Verification of Certification.
If you are a WIC Clinic requesting a Verification of Certification (VOC) for Out-Of-State transfers, then contact:
Email:
cathy.daniels@la.gov